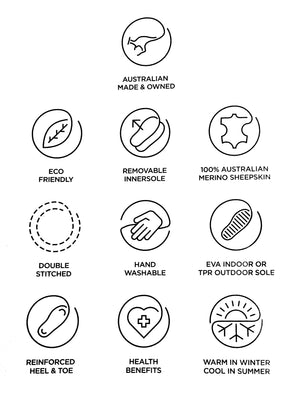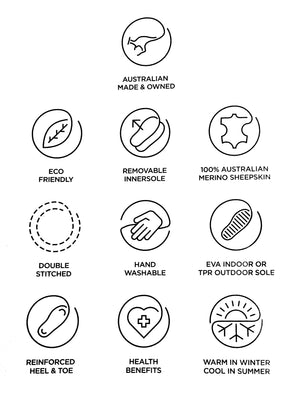 On Sale
Husky | Caramel - Size 5,6,9,10
The Husky Caramel is a vintage boot dating back to the popular 70's lace-up style, with a modern restyle. It features an adjustable lace-up to fit any calf and the supportive, non-slip, rubber sole for walking around the city or country streets, resilient to -40 temperatures. The words Pure Oz embroidered on the heel. The boot looks so good and is created to stand the test of time, by the selection of the best and thickest sheepskin fibre and the secret technology we use the make the suede hold its design shape. Pure Oz sheepskin boots are all Australian made, in our own tannery and workshop using sustainable methods.
Features
Brand Pure Oz

Australian Made

Australia Owned

Australian Merino Double Faced Sheepskin

Sheepskin tanned in Australia

Sustainable chemicals, manufacturing, living wages and packaging

Womens Boot

Durable, TPR Rubber Sole, resilient to -40 C

.



This is a warehouse clearance design, with limited pairs available until sold out

.
Shipping and Returns
Free Shipping Australia Wide

All goods are shipped from Melbourne, next business day
Free Returns or Exchange for any item
Size Guide
Please check the height and calf measurements 
We recommend looking at 3 pairs of sneakers, such as the brand Nike and using the average US size.
Check your size Size Chart 
Measurements
| Womens Size | Leg Height | Calf Width |
| --- | --- | --- |
| US 5 | 33cm | 36cm |
| US 6 | 34cm | 37cm |
| US 7 | 35cm | 38cm |
| US 8 | 36cm | 39cm |
| US 9 | 37cm | 39cm |
| US 10 | 37cm | 40cm |