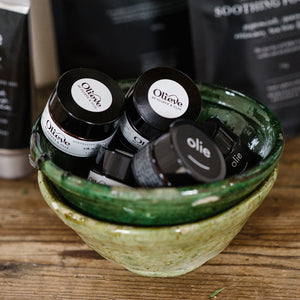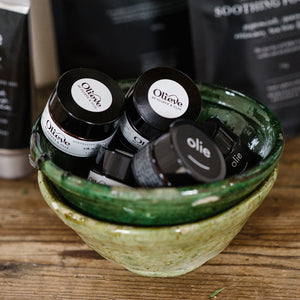 On Sale
Lip Balm | Olieve & Olie | Vanilla
Olieve & Olie has created a lip balm using a nourishing blend of organic butters, waxes and oils. Infused with pure vanilla oil to soothe, protect and assist in healing dry and damaged lips. This amazing product doubles as an eye cream, rich in natural Vitamin E which provides superb anti-aging benefits, anti-allergenic and is a germicidal antioxidant making it beneficial for wound healing. The balm helps lock in moisture and protect skin from damaging environmental factors. It's no surprise that this little pot of liquid gold is our most popular product! 
Australian Made in the Mornington Peninsula.
Specs | Size 15ml | Dimensions 4.5cm Tall X 3.5cm wide.
Ingredients | Extra virgin olive oil, organic beeswax with natural honey, jojoba oil, cocoa butter, shea butter, vanilla oil, vitamin E.
Olieve & Olie Story
The Family - Olieve & Olie began in 2000, as a small 15 acre property on the banks of the Gunbower Creek, 50km west of Echuca. The owners, Andy & Jude Steele, planted 2000 olive trees. Shortly after their first harvest, Jude began making her first batch of olive oil soap. In 2010, Andy & Jude sold their grove and moved to the Mornington Peninsula. Olieve & Olie continued to grow from their home studio in St Andrews Beach and still sourced Olives from their original grove in Echuca. It wasn't long before Andy & Jude outgrew their home studio and with the help of their daughter Sarah and son Hal, expanded the business into a purpose built factory in Rosebud. All products are still made by hand, on any given day you will find Jude in the factory mixing, pouring, measuring, bottling, labelling, and packing, with the help of her trusted team.
Olive Oil Hero Ingredient -Olive Oil is still the hero product and found in each skincare product. Olive oil is rich in antioxidants and vitamin E which provide anti-aging benefits and help restore skin smoothness. Olive oil won't clog your pores as it penetrates deeply into the skin while providing a cleansing effect. Olive oil is also one of the most sustainable oils, due to the fact the trees require little water, do not need to be sprayed with chemicals, and the olives can be harvested year after year without destroying the trees. Every single ingredient we use is natural and contains no chemicals. 
Local Sourced - Where we can, Olieve & Olie source our ingredients directly from the producers. This ensures that we know exactly how our ingredients are grown, that they are chemical free and grown and harvested naturally, ethically and sustainably. These principals are really important to us, and we love to support our local farmers and producers.